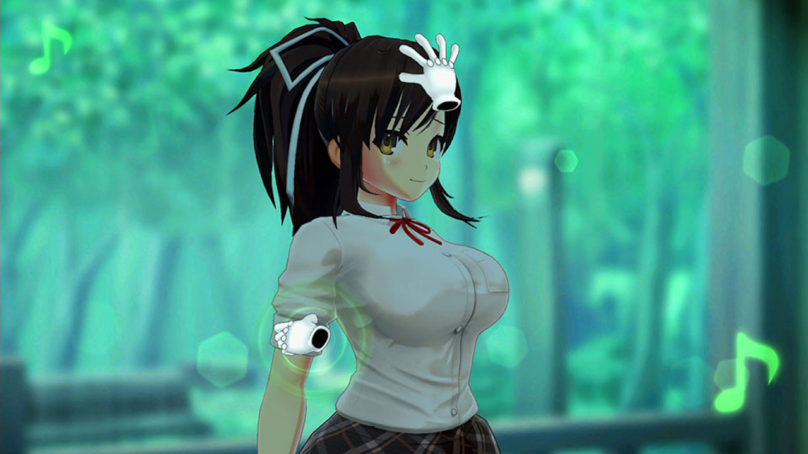 It's been a while since we last saw heard from Shinobi Refle: Senran Kagura. Most of the news we've heard lately has pertained to the SK Burst remake, but we're moving on to their very first Senran Kagura game on the Nintendo Switch. Marvelous has put out some new info and pictures for what they call their "chest-throbbing chronicle."
First off, Marvelous shows off the activity of Reflexology. There are many versions of this such as Mini, Prime, Standard and Fabulous. There are also different types of courses and costumes available to place on Asuka. Let's run through all of these one by one. As usual, all these are translations by Gematsu, with a bit of my own commentary added in there as well.
Reflexology
"A story of you and her, beginning from skinship (physical intimacy)." In this game, they certainly don't make any effort in hiding the almost constant physical contact you'll be having with Asuka (and potentially other characters.) They have mentioned before that this game is very much a sweet and sort of stupid little story about you bonding with a Senran Kagura girl, but also take advantage of the HD Rumble on the Joy-Cons. Therefore, it is not surprising that they'll place any excuse they can get to bond through touch.
Standard Reflexology: Hand
"By touching your hands with hers, the story begins to move. Try to feel her rising pulsation through her hands."
—Gradually, you will be invited into the innermost depths of her heart.
That quote makes it very clear that here is where you begin to propel the story forward. Very simple hand-holding that eventually escalates to more intimate (and hilarious) scenes. The text asks that you "feel the rising pulsation" on your hands, which clearly refers to the HD Rumble. Finding these pulsations is likely to be the objective of this small segment.
Standard: Body
"The girl before you projects one side of her. And she seeks your 'healing.' Try to heal her through touching, rubbing, and skinship. You can see various reactions depending on where and how you touch her. Which side of herself she reveals changes based on the places you touch her hand."
Here is where things might start to get a little bit more interesting, story-wise. Out of all the characters in Senran Kagura, Asuka, who is mostly considered to be the protagonist of the whole series, is one of the people that we know about the least. I think here is a good opportunity to have her backstory, or at least some expansion of her personality, come to light. It seems we'll be able to get the ladder based on how we touch, which unlocks different facets of her personality. I know this game is suppose to be some small, sweet little thing, but I'm still very intrigued about this specific part. Most of the replayability will likely come from going back and seeing how many times Asuka will change.
Fabulous Reflexology
"As you do more and more skinship, her mood will gradually increase. By increasing her mood, you can use the prime healing that is 'Fabulous Reflexology.'"
Royal Course (Hand Massage)
"Try to lead her to high-class healing by lightly use your hands to stimulate her thighs."
I read the words "high-class" and couldn't help but giggle. The comedic self-awareness in this game is not lost on me. This is the mini-game that Kenichiro Takaki played on stage during their special presentation, so we mostly know what this is about already.
Luxury Course (Roller Massage)
"Try to lead her to luxurious healing through the pleasant touch of a roller."
Again, this is another one that Takaki played on stage. The only thing that I'm curios about for this one is how the HD Rumble will feel. After playing games like Super Mario Odyssey and 1, 2, Switch!, I'm curious to see how far they can go with this Jov-Con feature. So far, I've enjoyed HD Rumble very much, so I like seeing a game that is almost exclusively dedicated to experimenting with it.
Fantastic Course (Brush Massage)
"Try inviting her to the fantasy zone by stimulation through careful brush strokes."
I don't have much to say about this other than the following: I want to go to the fantasy zone with Asuka.
#FantasyZone
Ultimate Course (Electric Massage)
"Try to bring about ultimate healing through the pleasure produced by everlasting vibration."
I'm glad that Nintendo has said that they want to bring in more games for adult audiences to the Switch, because this particular segment looks like something that they would censor or fully cut out from the game. Seeing the vibrator is not only hilarious, but one step closer to having these game be even more perverted than expected. This series never seems to stop surprising me in how much further they can push it.
Costumes
"You can change her hairdo, costume, underwear, and accessories. Coordinate her appearance to your liking."
This one is pretty typical, run-of-the-mill dressing room stuff. Even the outfits and hair colors are exactly the same as the ones from Estival Versus, so I wouldn't expected any surprises from this.
Mini Reflexology
"If you're changing her costume, you can do some carefree skinship in the classroom, just you and her. Rub, touch, stroke, spray water… enjoy your time with her to your heart's content."
I can already see the Peach Beach Splash influences inserted into this game. I like that they keep adding features of top of each other for every new release. This water-spraying feature probably wouldn't exist if PBS wasn't made first.
You can look out for Shinobi Refle: Senran Kagura on the Japanese Nintendo eShop in 2017 for 926 yen, which is roughly about $9-$10 USD. The year is very close to ending, so if the game is truly coming out in 2017, it would have to be very, very soon. I'll keep my eyes peeled for when the day comes.
Source: Gematsu, Marvelous